Coast and country, history and heritage, — Hampshire is an idyllic corner of South England. It's home to wonderful nature reserves like New Forest, as well as bustling marine towns like Southhampton and Portsmouth.
It is also a popular choice for a wedding location, with a multitude of gorgeous venues to pick from: rustic barns and charming farms, stately homes and castles, and even vineyards.
Today we're sharing the list of our favourite venues in Hampshire in hope that it can inspire you for planning your wedding in England.


Heckfield place


We have to start with our favourite. Described by themselves both tamed and gently wild, this lovingly restored Georgian family home is a peaceful haven surrounded by most beautiful landscapes.
Elegant and contemporary, in perfect harmony with nature and seasons, the house is the epitome of luxury.
Stylish interiors will ensure your comfort in preparation for your big day, as well as indulgent relaxation after. Expansive grounds, including lakes, woodlands, pleasure gardens, and walled gardens are for you to explore or use for your event setting.
There's one more thing that has to be mentioned. The food. Imagined and created by one and only Skye Gyngell, and produce supplied straight from their Home Farm, the food is fresh, elevating, delighting and nourishing for body and soul.

Heckfield place is the choice for the true aesthete.


Three Choirs Vineyard


If you thought you can only get a vineyard wedding in France or Italy, think again!
English wines, and sparkling wines in particular, are enjoying a splash of interest at the moment, and so it's no wonder that beautiful vineyards are getting more popular by day as well.
Three Choirs Vineyard can house both small and large celebrations and is licensed for marriage ceremonies. There're few options of event spaces: The Old Winery (carefully renovated rustic barn with original oak features and vintage crystal chandeliers), The Courtyard (perfect for relaxed outdoor cocktails or intimate summer dinners), and, of course, the ever-changing scenery of the vineyard itself, — with lush green leaves in summer, brightly burning reds and oranges in autumn, and a minimal, serene-looking scene in winter.

The venue also has 5 rooms available for on-site accommodation, so you and your 8 chosen guests can enjoy the comfort of a relaxed stay.


Silchester farm


Silchester farm is a brand new addition to the wedding venue scene in Hampshire. It's a working farm, — love and care of the team are felt in every detail here. They opened for weddings only in spring 2020, and run a very special offer for bookings in 2020.
While they're not yet fully licensed for official marriage registration, symbolic ceremonies here can be absolutely magical.
For those looking for a curated and grounded look and feel — Silchester farm is a perfect venue choice.


Pylewell park


Another newcomer in Hampshire, Pylewell Park is a magnificent estate offering complete exclusivity in magical New Forest.
The venue has a marriage license for both indoor and outdoor locations and has a stunning, freshly completed Pylewell Pavilion (beautiful semi-permanent marquee structure) ready for your celebration meal.


Limewood hotel


This luxury country house hotel is a perfect blend of tradition and modernity. Preserving some classical features, Limewood added beautiful contemporary elements to its interior design, taking inspiration from the beautiful nature it's nestled in.
It's available for weddings for exclusive hire, which includes all 32 of their luxurious bedrooms and suites, which means you can enjoy complete privacy for your special day. Even hire available Monday to Thursday only, with weekends reserved for other guests.

Our favourite feature? Beautiful spa and welcoming courtyard.


Froyle park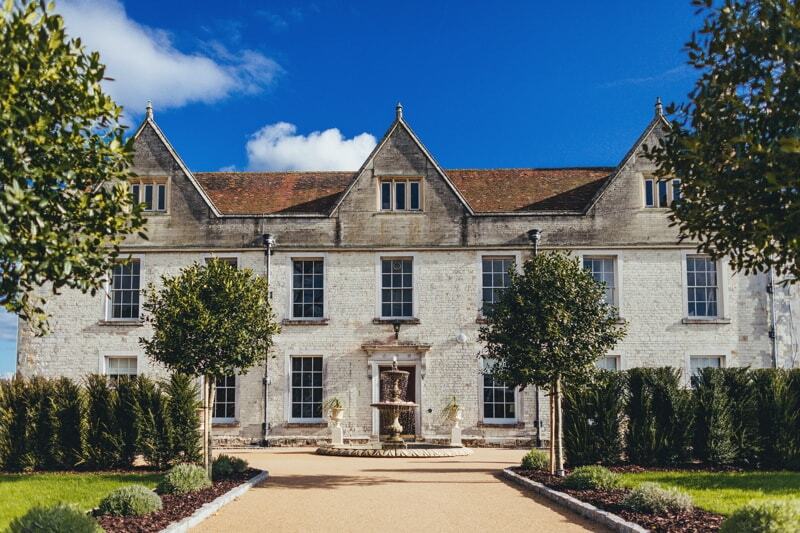 With the history dating back to 11th century, Froyle Park is a true gem of a wedding venue. Besides the impressive Jacobean Manor House, the estate vast gardens and gorgeous views of surrounding Hampshire countryside are sure to impress even most discerning souls.
The most famous and eye-drawing feature is probably the magnificent cherry blossom tree in the courtyard — a perfect place to exchange your vows.

Another great option — outdoor pagoda, which can host groups of up to 200 pax for wedding ceremonies.
When booking Froyle park for your wedding, you will be hiring it for exclusive use, together with 14 beautiful and comfortable apartments.


Clockbard weddings


Major Alice in Wonderland vibes at this rustic countryside haven!

Thatched-roof of the clocktower is the first thing that greets you upon entering the place and sets the tone to the rest of it. Charming rustic barn with exposed wooden beams and high ceilings gently lit with chandeliers and fairy lights, — it's a perfect canvas for creating a truly magical and enchanted wedding setting.


Avington park


This privately owned stately home, just one hour from London, offers elegant and stylish wedding option, hosting up to 100 people in their beautiful orangery and library rooms, but has marquee option available for larger groups.


Somerley house


Somerley house is truly a place that will make you feel like home. Its grandeur is stunning but never intimidating, giving out a welcoming feeling, regardless of which location you choose for your ceremony and dinner.

It's versatile and ready to create a truly bespoke experience for every couple. Whether it is an art-surrounded soiree in the Gallery room, or a free-spirited bohemian event in their gardens, Somerley house work with only a selected number of couples each year to provide a truly personal and warm experience.



The choice of your wedding venue is arguably the most important decision you will make in your wedding planning process. Whether you have a wedding planner by your side or not, it's important to ask yourself a few questions prior to even looking at some options.

Once you have the main things figured out, it will be easier to make a decision.
We hope this list will be useful in your search! And please do reach out to us for a chat and advice, we'll be happy to help create the most magical day in your life as a couple.