Cornwell Manor


Do you love The Holiday movie as much as I do? I probably watched it 10 times, and one of my favourite scenes is with Cameron Diaz and Jude Law walking after their first proper date — and that was filmed in the Cornwell Manor.

Gorgeous Georgian facade covered in ivy, manicured gardens, a vast estate with Norman church, lake, woods, and farmlands… Located in a beautiful piece of Cotswolds AONB, the estate is nothing short of amazing. It can be exclusively yours for the whole weekend, Thursday to Sunday, and accommodate up to 24 people in its beautiful rooms.

Just imaging — a nice leisurely arrival, candlelit rehearsal dinner on Friday night, beautiful outdoor or church ceremony on Saturday, and relaxing downtime on Sunday.

The estate is available for a very limited time every year, from June to September. It's definitely the place to create memories for a lifetime!


Thythe Barn


Thatched roof, stone walls, original wood beams — Thythe barn is a beautiful 14th-century to hold your event in Oxfordshire. The team at Thythe love weddings, and with their relaxed and friendly attitude they are ready to help your vision of your wedding day to life.
In partnership with their in-house catering team, they create the most outstanding wedding breakfasts and dinners (up to 155 people inside the barn).
The venue evokes a very warm and cosy feeling, and it's perfect for a relaxed countryside style wedding.


Thorpe Manor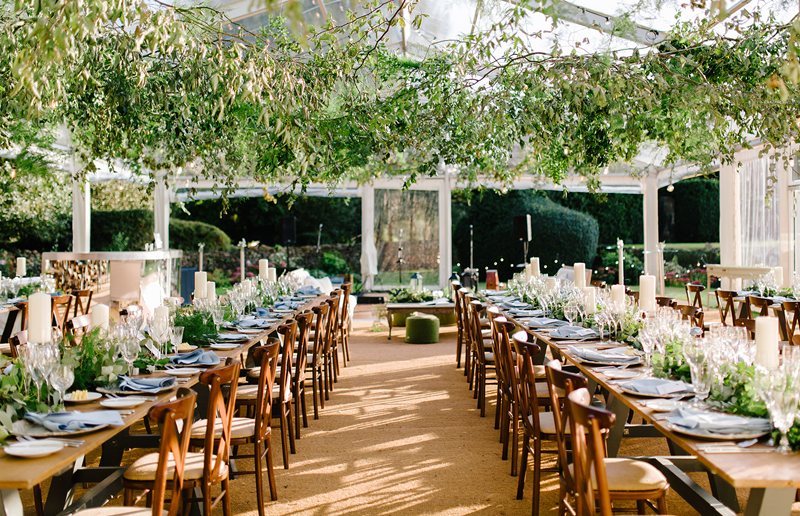 This grade II* listed Georgian manor is the luxury you will want to stay in forever. The grand county house with its extensive gardens, croquet lawn, elegant interiors of drawing and dining rooms, and luxurious bedrooms, is a dream of a wedding venue. Everything here is carefully curated, and by choosing Thorpe Manor you can be sure to have the impeccable day.

They are not yet licensed for official civil ceremonies, but you can simply opt for a symbolic vow exchange on the day, having taken care of official paperwork beforehand.


Caswell house

Honey-coloered walls, Cotswolds signature, are a very prominent feature of Caswell house, — medieval barn wedding venue nestled in the beautiful English countryside. The place oozes romance and is perfect for a relaxed, rustic, and contemporary wedding celebrations.

Whether you opt for an indoor or outdoor wedding ceremony, you'll be sure to have beautiful memories of the day. There are options of walled garden, stone barns, and spacious lawns, all waiting for you to choose the perfect setting for your wedding day.


There is also a comfortable accommodation for you and your guests on-site.



The Great Barn


Available throughout the year, The Great Barn is a lovely countryside wedding venue. Restored 18th century stone barns are welcoming and cosy, and the team here offers a completely bespoke service to cater for your requirements.

The indoor seated capacity allows up to 140 people, while between May and September you also have the option of an outdoor ceremony with up to 50 guests.
There is also a comfortable dressing room available for the bride and up to 10 guests on the day.


Belmond Le Manoir Aux Quat Saisons


Dreamy place in any season, Belmond La Manoir is a beautiful combination of English tradition and French charm. The passion of the host — acclaimed chef Raymond Blanc — is felt in every detail here — from haute cuisine to travel-inspired interiors of luxurious bedrooms.

The 15th-century manor house sits among the beauty of picturesque countryside just outside Oxford, and it is perfect for an intimate gathering of true connoisseurs (the venue hosts up to 50 for a seated dinner). Whether you imagine a cosy winter affair or a midsummer night's dream — Belmond Le Manoir will provide the ideal setting, with its walled gardens, fruit orchards, blooming orangery, or elegant dining rooms.


Aynhoe park


A house of stories and surprises, Aynhoe park is a quintessence of eccentric spirit. Like a treasure trove, it's filled with contemporary and classical art, taxidermy, quirky objects. There is something interesting awaiting you behind every corner. The house's elegant features are teasing and welcoming to explore, and weddings here are always magnificent. A little extravagant, somewhat surreal, and very stylish, Aynhoe park is perfect for couples who are not afraid to experiment and have a strong personality.


Kirtlington park


Kirtlington Park is certainly one of the finest country houses wedding venues in the region.
Conveniently located between Blenheim palace and Oxford, it is a carefully preserved family home, that is now available for exclusive hire for your wedding day.

There is a bridal suite for you to calmly and conveniently get ready for your day, as well as 4 additional guest bedrooms to relax in.
A number of elegant stately rooms are available for you to choose from for your ceremony and reception. Planning a wedding in Kirtlington park is a true pleasure.


Primrose hill farm


Primrose hill farm is a venue in Oxfordshire countryside, combining contemporary vibes with rustic warmth. With stone barns and charming Farmhouse, this place is idyllic for your wedding gathering. You'll have the place for the entire weekend, giving you ample time to relax and enjoy everything it has to offer. The light-filled barn makes a perfect canvas for wedding breakfasts, taking in various designs.


Ardington house


Offering luxurious modern comfort, Ardington house is your own private stately home for your wedding weekend. Its classical grandeur adds a very stylish flair to your event. Wedding breakfasts are held in a spacious airy marquee, with a capacity of up to 200 guests. 12 cosy bedrooms are also available for your personal use.



I absolutely love weddings in the English countryside, they have a special charm and wonderful character. If you are thinking of a wedding in beautiful Oxfordshire, I will be happy to help you plan and style the event that you and your guests will remember for a lifetime.

Xenia Motif Creative Studio is a wedding planner based in London, working on weddings in England, Scotland, and all across Europe. Reach out today to discuss your wedding with Xenia.